It is so wild how we can just "do" life with no plan. You wouldn't build a house without a blueprint, how crazy am I to think we can build the life we want without a plan!??
I'm all about living with intentions. The idea of looking back on my life and having no idea what I have done with it makes me sweat and determined to do better than that.
All that being said I am also NOT, by nature, a planner. But it doesn't take long to learn when you aim at nothing, you hit it every time.
Realizing that life is too important to waste without a plan, we have come up with a series of "9 New Year life challenges" made up of very basic questions to help even the worst non-planners develop a script for their life. These questions will help you determine what you feel is important in life and ways to MAKE YOUR GOALS HAPPEN.
I listed out the challenge questions with details below on how I am using them. If you would like to do this on your own feel free to click on the picture below to print out your own list of just the questions.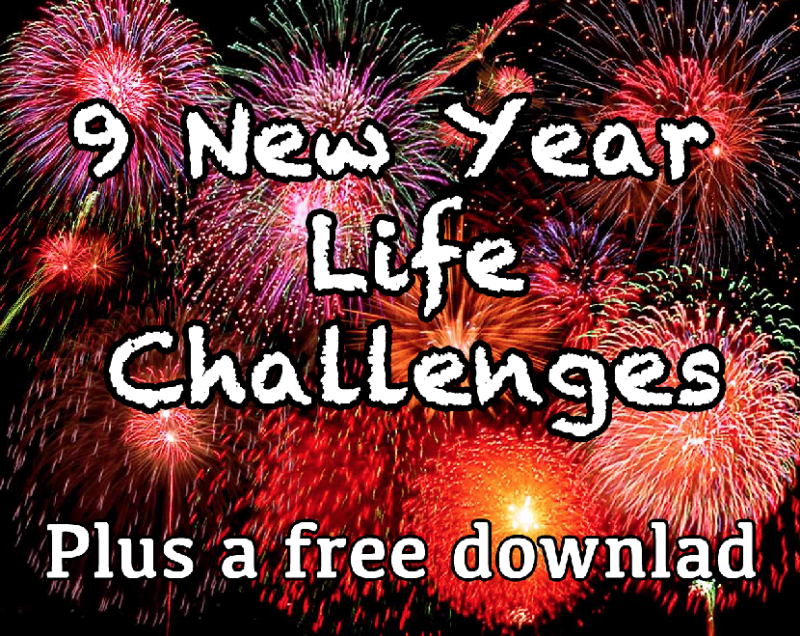 Priorities challenge:
What are my top 7 priorities? In order of importance
Put this list up in an area you can see on a regular basis (on the fridge or bathroom mirror for example). The decisions that we make throughout the year will be based on keeping these priorities in order.
Friendship Challenge:
Who do we want to invest our time with more this year?
For us this meant putting a once a month dinner date on the calendar. This dinner date will usually involve inviting another couple over to our home for dinner.
We are also making a point to be more involved with a couple older than us. There is soooo much to be learned from those that have already "been there and done that" investing in a couple who already has grown children helps us learn so much about how we can live life better today.
Financial Challenge:

What is one (or more) habit(s) we can develop to be wiser with our money? These goals may be different for everyone. I HIGHLY recommend Dave Ramsey's Total money makeover. There is a series of baby steps toward financial freedom. We are currently on baby step 7. His system has changed our life. I wrote a whole post on Dave Ramsey Stuff. If you are not currently following his principles it may be the single best thing you can do for you and your future in the new year.
Marriage Challenge:
Do we Pray together? Do we have a regular date night? Do we regularly ask each other, "How can i help you?"
Even though I am super cheap and don't always like to pay for babysitters I have found the absolute best way for us to stay in love is to have date nights and/or just time alone..without kids. We love them, we really do but having time away really recharges your marriage. Be sure to check out 17 Cheap (and romantic date ideas).
Children Challenge:
What character traits do we want our children to have and how can we help develop them? What areas do our children need help to grow? What is the example we are setting for them?
My challenge is to have a character word of the month that we will discuss as often as possible throughout the month. Honesty, Respect, etc. Our school and church both have character words so that makes it easy to choose. If you would like to incorporate this in your family here is a great resource.
I am also going to better implement our chore chart by setting a timer on my phone to go off everyday at "clean up time."
Ministry Challenge:
Who will know Jesus because of me? How will we be connected in our community?
For me, this year my ministry challenge is to FOCUS. Deciding where God wants me to be for this season of life and making the best use of my time talent and treasure in this ONE area instead of spreading my self thin in several areas.
Health Challenge:
How much will we exercise weekly? How much sleep will we get? What will we eat?
My personal challenge is to exercise more. I have found a kick butt video from Julian Michales on Amazon Prime that will do just the trick. I like working out in my living room where if I don't hold for quite as long as I am supposed to know one can see (confession is good for the soul).
Learning Challenge:
What would I like to learn more about this year and how can I incorporate this into my schedule? Do I have an area of expertise I can use to help teach others?
Our book club has already picked out our reading schedule for the new year and my goal is to ACTUALLY READ each book….baby steps. I'm also excited about teaching a few more gardening classes this year at our local tech school.
IMPLEMENTATION Challenge:
Setting Goals without a plan are just wishes. So how can I realistically work each of these goals into my life?
For me this is getting better about scheduling my day the night before. And setting weekly goals/plans on Sunday nights.
In the upcoming months when you find yourself living intentionally and your plans are turning into reality please share on social media with #hashtag INTENTIONAL LIVING and I would love it if you tag me @imperfectpple
Cheers to a new year lived with INTENTION! Let's do this!